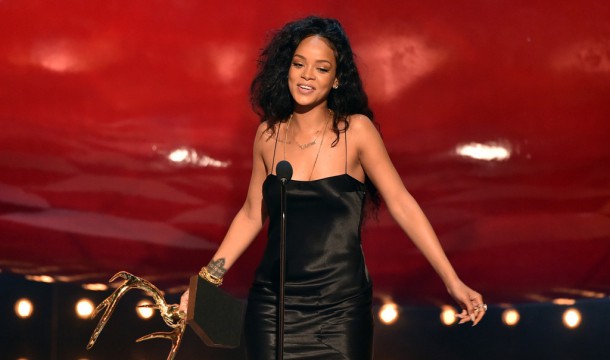 Yes she attended… and no she didn't wear anything to get any unnecessary attention.
Rihanna attended Saturday night's Guys Guys' Choice Awards in L.A. to pick up the first ever "Most Desirable Woman" trophy, but she did it in style without all the extra fluff.
Many wanted the pop star to compete with her infamous CFDA see-through sheer dress, but RiRi rocked a sexy and simple black dress while being presented the male award.
[POW! Rihanna Receives CFDA Award in See-Through Dress]
"I knew pervs like you would be here at the Guys Choice Awards," Rihanna joked to Kevin Hart during her acceptance speech.
She added: "Well, I mean, thank you for voting me for this at 26 because we all know it goes downhill from here. But this is a fun award, I appreciate it. Shout out to all the real men out there."
#iAMsexxi… Check out the photos by hitting next