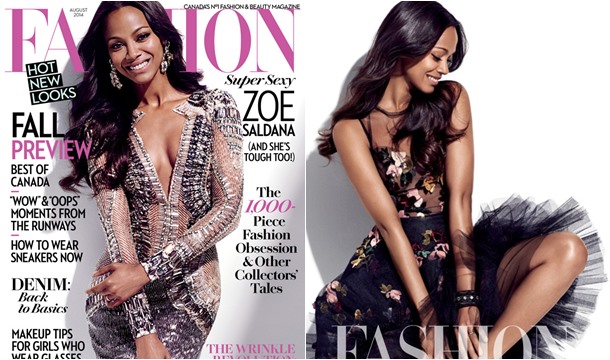 Actress Zoe Saldana glimmers in  Julien Macdonald while fronting the cover of FASHION Magazine for their August 2014 issue. Inside, Zoe dishes to the interviewer about her starring role in the Nina Simone biopic.
The Queens, New Yorker says, "I handled the role with the same love, the same respect and the same pride that any other black person would, because I am a black woman, a proud Latino black woman, and nobody's going to take that right from me." 
Critics have said Zoe is too light to play the role of a powerful singer, even though she wears dark make up and a prosthetic nose for the biopic.
She definitely has the potential to demolish the role. We love that she didn't bow out of a biopic as such.
The movie, "Nina", is now in post production. Stay tuned!