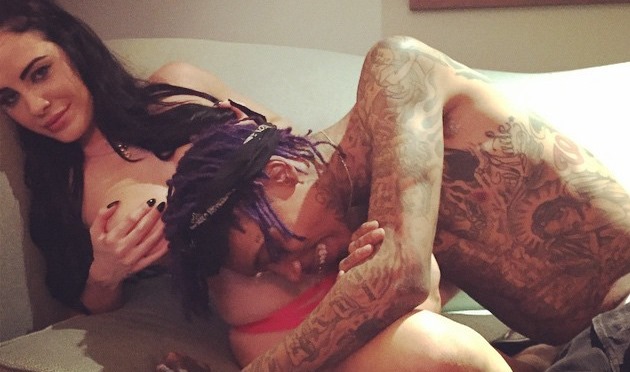 It's safe to say Wiz Khalifa is enjoying his single life.
The rapper, who reportedly is officially divorced from Amber Rose, looks like he's in full celebratory mood in a new photo shoot with a topless model.
In images uploaded by Playboy model Carla Howe, who happens to have an equally hot twin sister, she is seen lying on a couch holding her bare boobs as the shirtless "Work Hard, Play Hard" rapper sits on the floor. In one photo lays between the voluptuous model's legs with his head on her stomach.
Shot by @danfolger, it's unclear if the images are for professional use or just for fun!
Sure looks fun though!
BTW… a few days ago Bootylicious model/personality Deelishis quelled rumors about her and Wiz dating, calling him her "friend."
""I just want to confirm that he and I are friends, and that he is DIVORCED full and complete. And I would've never taken an interest with a married man," said Deelishis. "We're just friends… at this time."

She also added on Twitter, ""FOR THE RECORD, HE'S DIVORCED & SO AM I … SOOOO UH YUUP OK…in other news HOW ABOUT THOSE LIONS?""
Shooot… what man wouldn't want to be her "friend?"